Spring 2017
Rescue Revisited  – Zelda and Odie have found their forever homes with the help of BTCA-HEART
The Top Bedlington Terriers in Performance & Companion Events for 2016 have been named!
How To Plan For The Unexpected: Wills and Estate Planning by Ginger King
Meet The Breeds Events draw in huge crowds thanks to our Public Education Committee!
In Memory of Styler by Hessel Zegal

Read about the history of the Edwin Megargee medallion designed for the Bedlington Terrier Club of America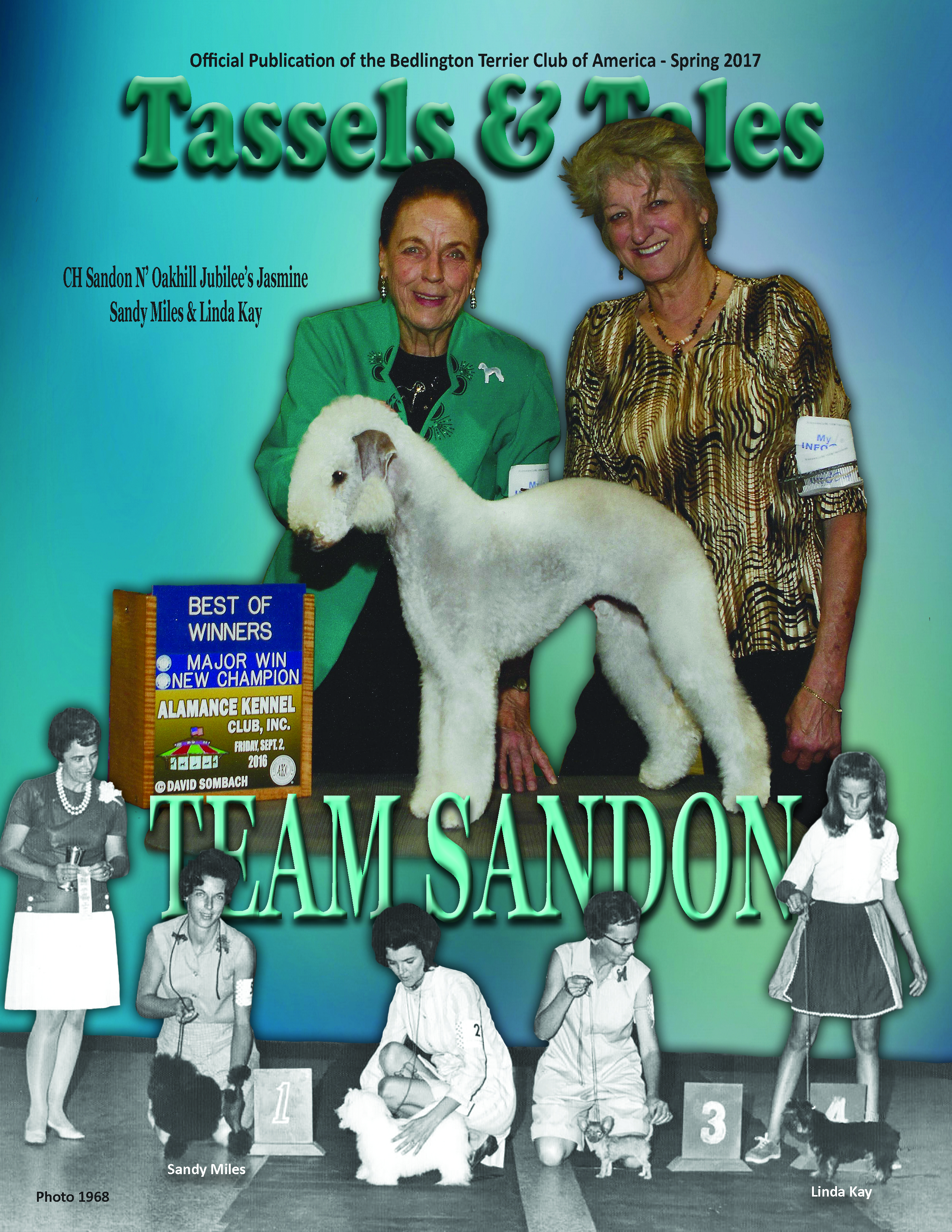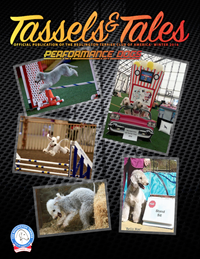 Winter 2016
Performance Cover time:  see a collage of Bedlington Terrier performance dogs

Dogs on the Run:  Top Bedlingtons in Performance and Companion events

National Championship in Orlando:  meet the Bedlingtons competing

From the Christmas 1980 issue of Tassels and Tales:  Sally DeKold's article about competing in obedience with Mr. Blue


Learning about PAL, the Purebred Alternative Listing

The history of cigarette cards and collecting Bedlington Terrier cards
Fall 2016
Why We Do What We Do

– A Message from the Bedlington Terrier Club of America President Dennis Corash

Have You Tried Barn Hunt Yet?

Something Different and Fun!  Come along and learn the basic principles
The First Bedlington Terrier to Earn a Barn Hunt Title Goes to…congratulations


2013 RESULTS and PHOTOS

from the

Bedlington Terrier Club of America National Specialty Show

in Louisville, KY

Paw Prints

features

Two Foggyfurze Bedlington Terriers

Where Are They Now? "Becoming Izzified"

The Latest HEART Rescue Story
Congratulations to the 2012 Bedlington Terrier Club of America  Annual Award winners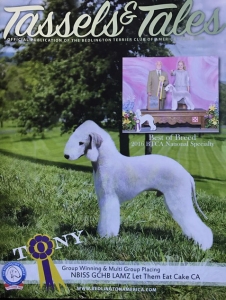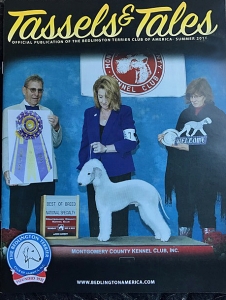 Summer 2016
On the Cover:  2015 Montgomery County Kennel Club National Specialty winner

AKC judge Richard Reynolds and taking Bedlington performance to the next level

A message from BTCA president Dennis Corash

In memory of Marjorie Hanson, longtime Bedlington Terrier Club of America member

Archival article by Gene McGuire:  "The loving & Care of the Older Bedlington"

AKC Meet the Breeds booth during Westminster week:  A recipe for a great day
Spring 2016
Goetz & Vogue:  Come and meet the #1 Bedlington Terriers dogs for the year 2015

Happy 90th birthday to Bedlington Terrier Club of America member Ken Bounden


Dogs on the Run:  read about the top performance and companion Bedlingtons for 2015

The wonderful work done by Sadie the Therapy Bedlington Terrier:  "I know! A Sheepdog"

Bedlington Terrier Collectibles:  come and see some of the fun pieces from BTCA member Sandy Miles' collection

Once Upon a Train by Hillys Lewis:  learn about the British author, and Bedlington owner, Craigie Aitchison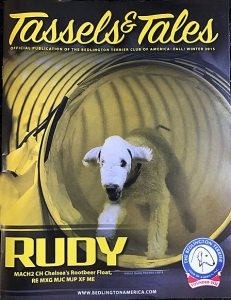 Fall 2015
On the Cover:  Come and Meet MACH2 Ch Chelsea's Rootbeer Float, RE MXG MJC MJP XF ME

Dog on the Run:  Top Bedlington Terriers in agility competition once again head to Florida

Results from the Montgomery County Kennel Club show held on Sunday, October 4th, 2015

2013 RESULTS and PHOTOS

from the

BTCA National Specialty Show

in Louisville, KY

"Where have all the Flowers (Ethics) Gone" article by BTCA member Mary Lou Stumpff

Hats Around the Ring:  photographs of the unique hats worn by exhibitors and attendees at the 2015 Morris & Essex Dog Show
Fall 2014
Cover: Best of Breed at the WORLD DOG SHOW 2014

 CH ASHCROFT WEDDING SINGER – When Ashcroft Talking 'Bout My Girl crashed Renee Ross' wedding week to be bred to GCH Kaylynn's Party Crasher, Singer was the result.  This American and Swedish Champion is owned and handled by BTCA international member Ninna Odehag of Sweden.  Breeder: Diane Pearson

Bedlington TEAM Wins Best in Show

at all terrier show in Southern California.

Overlooking Cow Hocked Rears

by Laurie Friesen: reprinted from AKC Gazette Breed Column November 2013

National Floating Specialty Results from Houston:

Judge Mr. Edd Bivin picks GCH Wrightwyn's Power Play 'Rion' as Best of Breed. Owner/Handler: Sandra Bethea. Breeder: Brent Wright

Paw Prints:

features Ch Gemar's Lord Jeffery photos from 1965

Charles H Prager: Top Bedlington Terrier Handler

by Brent Wright: A look back to the a successful and colorful career that began in the 1950's.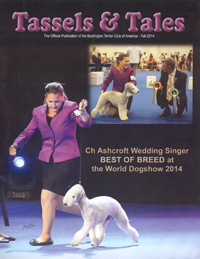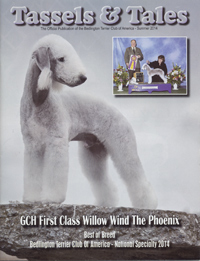 Summer 2014
Cover:

GCH First Class Willow Wind The Phoenix BOB BTCA National Specialty 2014.

Judge Frank Washabaugh, pictures and results from Louisville, KY
Dogs On The Run: History Maker Ch Galaxy-Victoria Full Speed Ahead
-the only Bedlington to earn High In Trial in Obedience

Toxic Plants:

Plants that could be dangerous to your pet

Grooming Diagram

: Sandy Miles' helpful grooming chart

Fun In The Sun:

Valentine's Day in Coronado CA celebrated with a Bedlington walk

Bedlington Terrier Club of the Wes

t regional specialty show results
Heartlee To The Rescue:

H.E.A.R.T. fundraiser is a great success

Thank you Alan Willemsen

: generous donation of

multiple Austrian bronzes

from Connie Willemsen's collection
Spring 2014
On the cover is the #1 Bedlington Terrier:

GCH Wrightwyn's Power Play, "

Rion

" and the 

#1 Bedlington Terrier Bitch:

GCH Sandon N' Oakhill Jazzy's Top Secret, "

Jazzy

"
Dogs on the Run:

THE TOP BEDLINGTONS in Companion and Performance Events 2013

New Titles:

November 2013 – January 2014

"Remembering the Neary's"

A Conversation with Honey Nashman
Westminster Kennel Club 2014 Results
Paw Prints:

Baron Conrad and the Inception of Rowanoaks Kennel

by Ray Herman
American Red Cross Pet First Aid App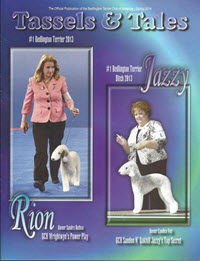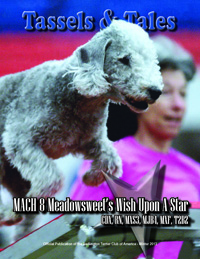 Winter 2013
Tassels & Tales Performance Issue!

featuring Performance and Companion Event competitors

Cover: MACH 8 Meadowsweet's Wish Upon A Star CDX, RN, MXS3, MXF, T2B2

AKC and AKC Reunites

have delivered their first

Pet Disaster Relief Trailer

AKC Agility Invitational 2013:

The Bedlington was represented by owner Sandy Martin and her dogs Rudy and Ollie!

Health & Wellness:

American Kennel Club/Canine Health Foundation Conference Update

AKC/Eukanuba National Championship 2013:

Show results

Paw Prints:

Photos from Constance M Willemsen and Rowanoaks Kennels
Fall 2013
The Urban Urbanite:

Meet Charlie And His Bedlington, Finn

2013 BTCA National Floating Specialty Show RESULTS AND PHOTOS

from Greeley, CO

The Bedlington Terrier Club of Greater Denver Regional Specialty Show

RESULTS and PHOTOS

!

Where Are They Now?

Kayla Holliday Writes About Her HEART Rescue Named Archer

The USDA/APHIS Has New Regulations and It's Bad News for Breeders

It's Raffle Time!

Send in Your Tickets Before It Is Too Late!

Paw Prints

Features Four Dogs from the Past
The Amazing Team of Anaclare Evans and Dewey Overcome Challenges on the Agility Course
PHOTOS and RESULTS from the Bedlington Terrier Club of the West Regional Specialty Show 2013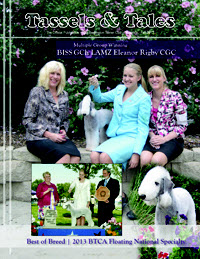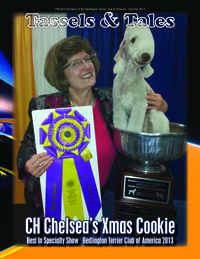 Summer 2013
Why We Do What We Do

– A Message from the BTCA President

Have You Tried Barn Hunt Yet?

Something Different and Fun!

The First Bedlington Terrier to Earn a Barn Hunt Title Goes to…

2013 RESULTS and PHOTOS

from the

BTCA National Specialty Show

in Louisville, KY

Paw Prints

features

Two Foggyfurze Bedlington Terriers

Where Are They Now? "Becoming Izzified"

The Latest HEART Rescue Story
2012 BTCA  Annual Awards
Spring 2013
Top Conformation Bedlingtons:

Syrah and Rion

You ain't Nothing but a Hound Dog:  article from the AKC

The Bedlington Terrier:  From the 1921 book "Terriers"

2012 Top Bedlingtons in companion and performance events

PAW PRINTS:  Come meet champion dogs of the past

New AKC Lifetime Achievement Titles

Where Are They Now: Lambie, Mollie and Me

a rescue tale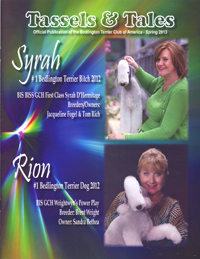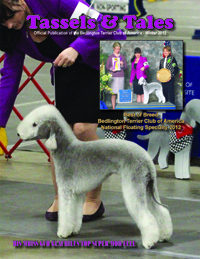 Winter 2012
Constance M Willemsen Breed Betterment Award 2012 Recipient, Margaret Phillips
They Are Off And Running!

Top 5 Agility Bedlingtons attend the AKC Agility Invitational

What's a Barn Hunt?

Find on page 15
Bedlington Terrier Club of America

National Floating Specialty 2012 Results

Bedlington Terrier

Junior Handler Wins Future Farmers of America Grant!

Congratulations Morgan Miller!

PawPrints:

Ch. Rock Ridge Meteor, Ch. Draherin Blue Audante, Eng. Ch. Stanolly Super Star

Therefore, It Must Be Copper Toxicosis:

How A  Little Bedlington Terrier Was Miss Diagnosed
Fall 2012
Performance and Companion event enthusiasts and their Bedlington Terriers

are showcased in this issue of Tassels & Tales! Bedlingtons can do it all!

Scandinavian Bedlington Terrier Club Specialty Show 2012

written by Swedish BTCA member Malin Eriksson.

Carl N. Roth and Anthony Neary exchange letters in The Bulletin.

What was on their minds back in 1968?

Bedlington Terrier Club of Greater Denver Specialty 2012 results.

And the winners are…
Wooly Warriors!

Bedlington Terriers love Lure Coursing

.

Just ask Pat Bennett!
The

Constance M Willemsen Breed Betterment Award

has been reinstated, revised, and renewed by the BTCA!

Crafty Canines II are back!

The next generation is as typey as the first!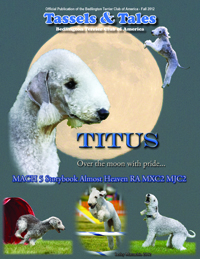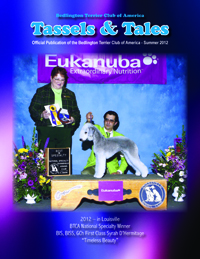 Summer 2012
Remembering Hunter

: A Bedlington With Many Talents

1st AKC Titled Bedlington Terrier Therapy Dog

goes to… Debbie Miller and her Bedlington Ricky!
Bedlington Terrier Club of America

National Specialty Show 2012 Photos and Results

The Bedlington Angulation Issue

by the late

Ian Phillips

Where Are They Now?

BTCA-HEART Rescues

AKC Good Sportsmanship Award Winner: Jay Presser

From The Archives

– Winter 1970. Notable Bedlingtons Owned by E.W. March
Spring 2012
The Bedlington Terrier in the Show Ring

Teaching judges about our breed

Start your Engines & Rev It Up

Information about the 2012 BTCA floating specialty in North Carolina

Col. P.V.G. Mitchell and the Rowanoaks Kennels

Read and learn about Connie Willemsen and her father, Colonel Mitchell, of Rowanoaks Kennel

Lucky Dog, Lucky Me

The story of Basil, a Bedlington Terrier rescue dog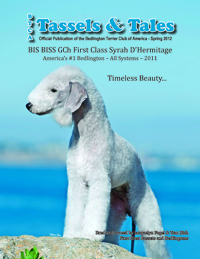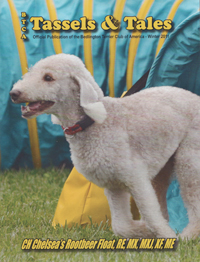 Winter, 2011
The Bedlington Terrier's Vocation

by Richard Reynolds
"Friday nights will often find him in the alleys of New York City hunting wild rats with teriers of all breeds and sizes"
The Lost Angels Program is introduced by the BTCA Historical Committee
Even Your Couch Potato Can Be an Agility Prospect
Guidelines for getting starting with your Bedlington in agility
Bedlingtons Love to Chase Lure Coursing in Great Britain and the United States

Bedlington Terrier Icon of Distinction Welcomes World Class Dog Travelers Aboard the S.S. America in 1940

complete with many images from the past
Fall, 2011
BTCA Floating Specialty 2011  Results and

beautiful photographs of a great weekend in Long Beach, California
The Bedlington Terrier Club of Greater Denver specialty show weekend with results and photographs
Lots of photographs of a great specialty weekend with results from the specialty show
Master Earthdog Title:  Learn about BTCA Karen Miller's dog Savanna and how she earned her Master Earth Dog title
2011 World Dog Show  BTCA member Linda Freeman takes us along on her trip to Paris, France, for the 2011 World Dog Show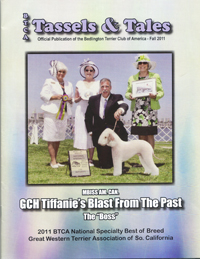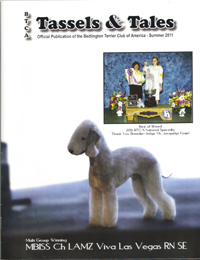 Summer, 2011
Lure Coursing 101 Learn about the sport of lure coursing and the new AKC titles from BTCA member Pat Mills
BTCA National Specialty Judges Critique Read judge Jackie Fogel's comments about the entry of dogs she judged during our 2011 Nations Specialty in Louisville, Kentucky
Needle Felting by Gerry of Gourmet Felted Learn about the art of needle felting through the eyes of artist Gerry Santos
BTCA National Specialty 2011 View photographs of the national specialty in Louisville, Kentucky, in March 2011
Spring, 2011
Last Call for Participants

Copper Toxicosis gene discovery research project in partnership with the Canine Health Foundation

All Aboard for the 2011 BTCA Floating Specialty

weekend in Long Beach, California, hosted by the Bedlington Terrier Club of the West

Bedlington Terrier Club of America Annual Awards

Congratulations to all the winners.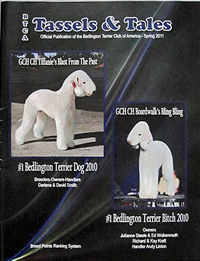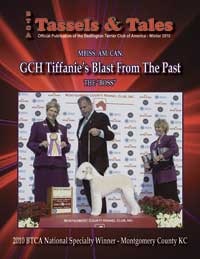 Winter, 2010
2010 BTCA National Specialty Critique

 by Judge Christine Erickson  Read Christine's comments about our entry as a whole and her thoughts on the winning dogs she chose.

Bedlington Terrier Club of Greater Denver Specialty Show: 

Highlights, winners, and candid photos

Lambs Find Forever Homes 

Special Bedlington Terrier rescue stories with happy endings

Earning a UDX Title 

The road to this coveted obedience title
Fall, 2010
Like Mother Like Son?

Another Bedlington First in Performance

AKC announces the First Grand Champion Bedlington Terrier!

Find out how your Champion can become a Grand Champion.

Lambs Find Forever Homes. 

Read about six Bedlingtons who found their "Forever Homes" and how they are doing today.

Does Your Dog Smell?

Tracking 101 by Pat Mills. An introduction to AKC Tracking events.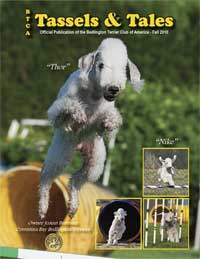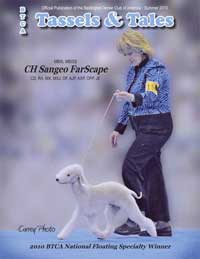 Summer, 2010
Seminars! Parties! Grooming! Showing!

 The results and photos of the 2010 National Floating Specialty, Louisville, KY are in this issue!

A Special Circumstance

written by Isabel Ganz. A touching article about members helping members during a time of need.

BTCA Junior Morgan Miller,

writes about her experiences at the 2010 Westminster Kennel Club Junior Sportsmanship competition. Morgan qualified with her Bedlington Terrier, Roadie.

The Arizona Bedlington Convention

meets once again. What's that you ask? Find out on page 22.

The Bedlington Terrier Agility/Obedience Entries

at the BTCA National Floating Specialty have taken over the centerfold of Tassels & Tales!

Winston was rescued by BTCA-HEART.

  Read his story and find out how he is doing today.

The AKC Outstanding Sportsmanship Award

goes to… find out on page 47!
Spring, 2010
Top 2009 Bedlington Terrier Dog and Top 2009 Bedlington Terrier Bitch

share the cover of Tassels & Tales!

Results for the 2009 AKC/Eukanuba National Championship

and photos accompany features on Marcia St. Lifer, for whom the show was dedicated, and Martha McVay, honored guest.

Top 2009 BTCA Annual Award Winners Announced!

Dogs On The Run

features Top 2009 Bedlingtons for Earthdog, Rally, Obedience, and Agility.

It's been a cold winter

for many of our members and their Bedlingtons.  Valentines Day love in the BackYard Champions Pet Pages!

Henri, Gabriel, and Ely…

read about three very special Bedlingtons who were given a second chance and forever homes.

Tales From The Past

features an article from "The Dog World Annual", est. 1937.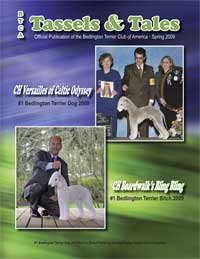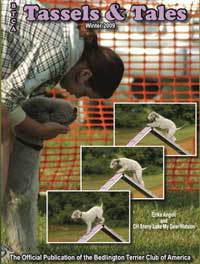 Winter, 2009
The Top 5 Bedlington Terriers

head to Long Beach, CA for the 4th Annual AKC Invitational Agility Championship. Find out who made the Top 5 and what advice they have for those starting out in Agility competition.

Halloween and Holidays! 

Check out the BackYard Champions Pet Pages!

Meet The Breeds

event in New York City BTCA Public Education Chairperson, Karen Weldon, shares her experiences at the first AKC event.

LuLu is a special rescue Bedlington.

Read about the new life she shares with her rescue owner, Etta.

Let's Learn About Bedlingtons at the Louisville seminars. 

Details of the seminars offered during the 2010 National Floating Specialty in Louisville, KY will surely get you excited about coming to the shows!

Homecooking Your Way To Health – Dusty's Story.

  BTCA member, Randi Neill, shares her success story and how homecooking made Dusty a healthier Bedlington
Fall, 2009
Regional Specialties:

The Bedlington Terrier Club of Greater Chicago Regional Specialty, the Bedlington Terrier Club of the West Regional Specialty, and the BTCA National Floating Specialty took place in June and July. Check out all the action!

Looking for some grooming products?

Linda Freeman has some recommendations.

Two Bedlingtons and their owners

participate at TOPS. Read about their recent accomplishments in the Dogs On The Run column by Jeri Bernard.

Meet Jon, 2009 AKC ACE Award Nominee.

Read about Jon and his owner, Jennifer Eaton, and what makes this team so special.

Rescued Bedlingtons!

Acting HEART Rescue Coordinator, Lisa Clarkson, shares success stories on recent rescued Bedlingtons and how they found their forever homes.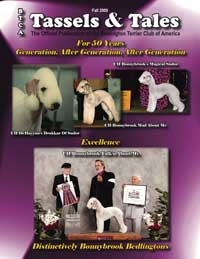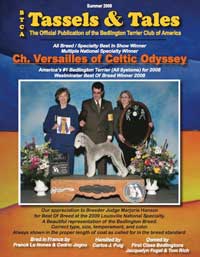 Summer, 2009
National Specialty Louisville

See the winners and other photos and read Judge Marjorie Hanson's critique.

You Gotta Love Those Bedlingtons!

  Find out how a Bedlington brought a father and daughter together after 40 years apart.

Meet Quincey

the first UKC Bedlington All-Star!

The BTCA History Committee

needs your help!  Help identify photos, articles, and pieces of history from scrapbooks given to the BTCA History Committee.

What's in a name?

Read why it is important to include suffix titles earned in AKC Performance and Companion Events when reporting a dog's name and who is leading the charge!
Spring, 2009
2009 AKC/Eukanuba National Championship

Show  Enjoy seeing photos of the competition and read the results of the judging
Finding a Forever Home  Read the story of two Bedlington rescues as told by former BTCA rescue chair Judy Schaumburg
Home Cooking for Dusty  Read BTCA member Randi Neal's experiences of home cooking for her Bedlington Dusty
AKC/Eukanuba Honored Guest Read about a special Bedlington fancier who was an honored guest at the 2009 Eukanuba competition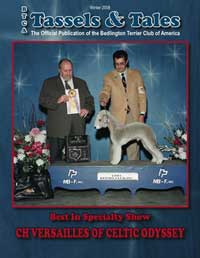 Winter, 2008
Give Thanks to Bedlingtons

and for a great National Floating Specialty Show 2008 in Columbus, Ohio! See the photos from around the ring and the advertisments fromthe winners!

Top 5 Agility Bedlingtons

participate in the 3rd Annual AKC Agility Invitational. Read about the Top 5 and their owners

At Long Last A Bedlington!

New BTCA member, Margot Einstein, shares her touching story of fially getting a Bedlington after wanting one for 50 years!

Meet Quincy, a very Versatile Bedlington!!

Who knew one little dog could accomplish so much?

The BTCA History Committee needs your help!

See how you can contribute and preserve the history of our breed
Fall, 2008
What have our Bedlingtons been up to lately?

Enjoying the summer, of course! Check out the fun photos in the BackYard Champions Pet Pages.

Around the World with BTCA Members!

Several BTCA members participated in the World Dog Show in Stockholm, Sweden. Read about the show and their experiences and see photos taken during the competition. Written by Linda Freeman.
And after a trip to Sweden, it is on to England with Mary Lou Stumpff who shares her experiences of importing an English bred Bedlington and exporting her own American bred Bedlington with English Bedlington breeder, Billie Fisher.
If you missed the latest AKC Gazette article, you will find it on page 35. The title, Our Imports – Impact and Influences, discusses the importance of importing Bedlingtons from all over the world with several BTCA breeders and the influence it had on their breeding program. Written by AKC Gazette Columnist, Lucy Heyman.

Performance Bedlingtons take over the cover of Tassels & Tales!

Find out what some of our great Performance Bedlingtons and their owners have been up to this past year.

Bedlington Movement & Structure

Springy movement is unique to the Bedlington Terrier  – understanding structure lends to understanding how our dogs get their spring.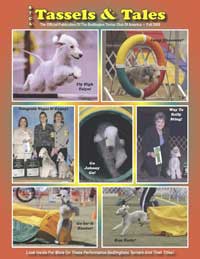 Summer, 2008
New Performance Title Protocols

Find out about the new Performace Title Protocols for 2008 and don't miss your chance at a well deserved award.

Where DO our dogs originate from?

Shirley Davies from Scotland, UK shares her ideas and photographs.

This Story Needs Sharing…

Read about a very determined bedlington named Luna and her devoted owners, Chris and Graham Brew.

Judges Critique from Louisville

If you missed going to Louisville for the 2008 BTCA National Specialty, you can read the Judges Critique, peruse the 2007 Annual Award Winners, and enjoy the numerous photos of BTCA members and their dogs

Bedlington Movement & Structure

Springy movement is unique to the Bedlington Terrier  – understanding structure lends to understanding how our dogs get their spring.
Spring, 2008
Welcome New Board Members

Diane Pearson and Pat Mills take office in March. Find out what they hope to bring to the BTCA.

Who's Wishing Who A Happy Birthday?!

A fond Farewell To Junior Showmanship

BTCA member Gaby Gilbeau reminisces on her years in Junior Showmanship and encourages others to get involved.

Remembering BTCA Member Janet Meyer

The legacy of BTCA member Janet Meyer and Tenaj Bedlingtons is remembered by friend Vicki Petris.

Do You Love Your Dog More Than Your Breed?

Dess June's poignant article on the consequences of breeding dogs to suit the whims of judges results in no one truly winning.